Is there a way I can send feedback or ask a question from within A-List+?
We have incorporated a Feedback feature in A-List+. Tap the "+" at the top, swipe right-to-left and you will find the Feedback feature. Tap it and it will create an email directly to us! Here is a brief video demo:
https://vimeo.com/193574590
I see Tasks on my Dashboard showing in Today and Tomorrow. Why are they repeating?
Maybe we over-engineered these based on our own ludicrous to-do-lists, but what you are seeing is what you should see. The underlying goal is to enable the user to get as much done as possible every day with the least administrative effort.
Here are the business rules:
Today's Events:
1. If there are any overdue events, they will be presented to the user in a single cell with red font stating "You have "X" OVERDUE TASKS."
2. Tasks with a due date of today.
3. Tasks due tomorrow
4. Tasks due at a date in the future.
5. Tasks with no due date.
Tomorrow's Events:
1. Tasks due tomorrow
2. Tasks due at a date in the future.
3. Tasks with no due date.
My Contacts do not match between my iPhone and my iPad, and it looks like A-List+ is constantly trying to sync, what is happening?
This issue arises when the iPhone and iPad do not have the same email accounts set up on both devices. Our iOS account gets "turned on" when we set up our new device and add our Apple ID and email. Where we generally see issues is when we have additional email accounts like Outlook, Gmail, or Yahoo on one device and not the other. The iOS Address Book settings and contacts must match on each device to ensure proper functioning of A-List+ Contacts.
To verify this situation go to your iOS Address Book on both devices. You can do a manual/visual check to see if your contacts match, and you can scroll all the way to the bottom of your lists to verify the numbers of contacts are the same on both devices.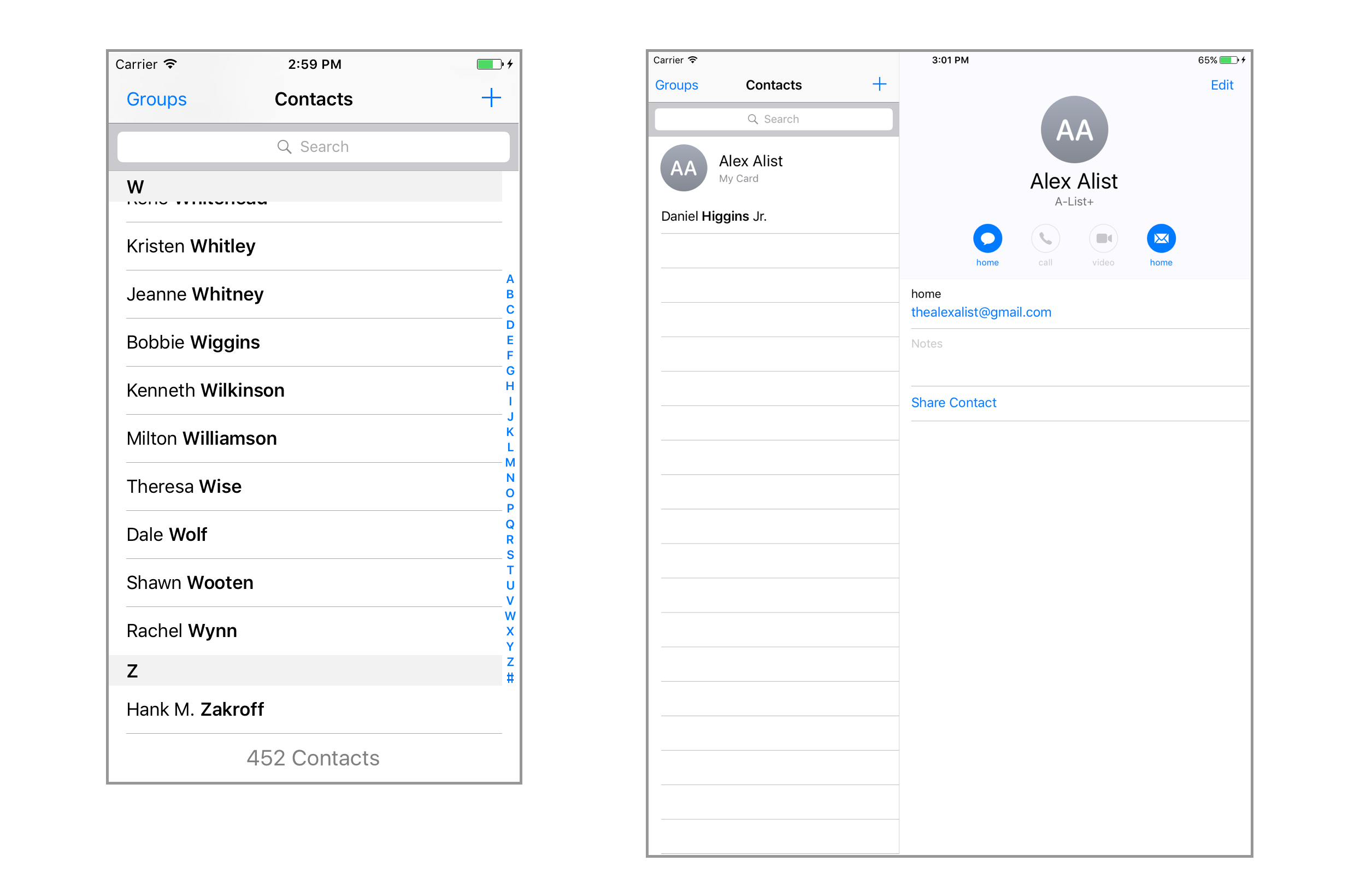 Clearly these two Address Books do not match. The iPhone has a total of 452 contacts and the iPad has one plus the user's info.
In the upper left hand corner of each screen should be a button labeled, "Groups." If that button does not exist on one of the devices, this is a key indicator that the email accounts don't match! But click the Groups button, and this will display a list of Contact Groups that are active on that device.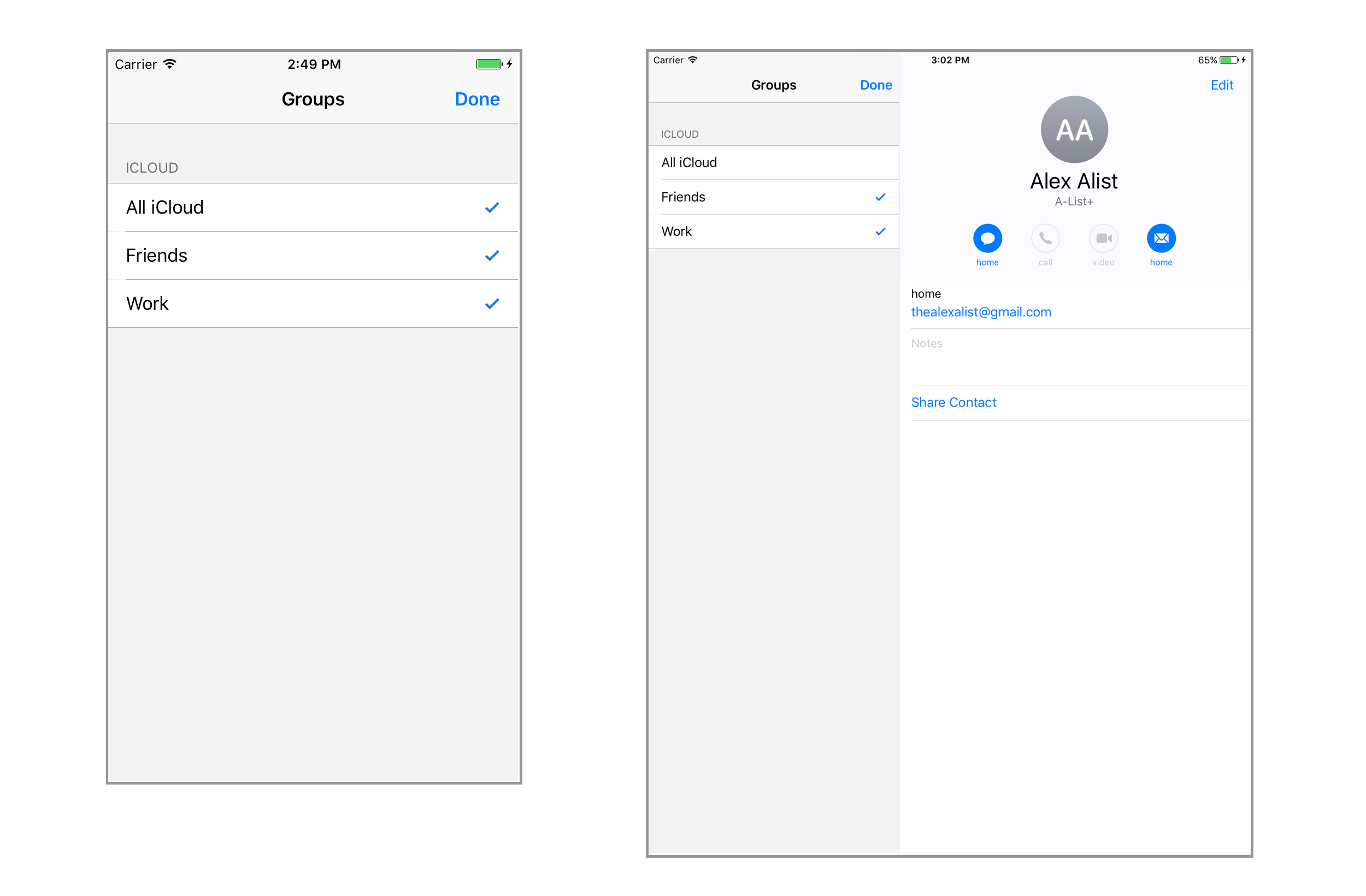 In these screens it is apparent that the Groups do not match, "All iCloud" is not checked on the iPad. If there were additional email accounts, e.g., Gmail, Yahoo, Outlook, their contact groups would also appear here. Checking "All iCloud" on the iPad will sync the contacts on the iOS Address Book between the devices, and therefore also in A-List+.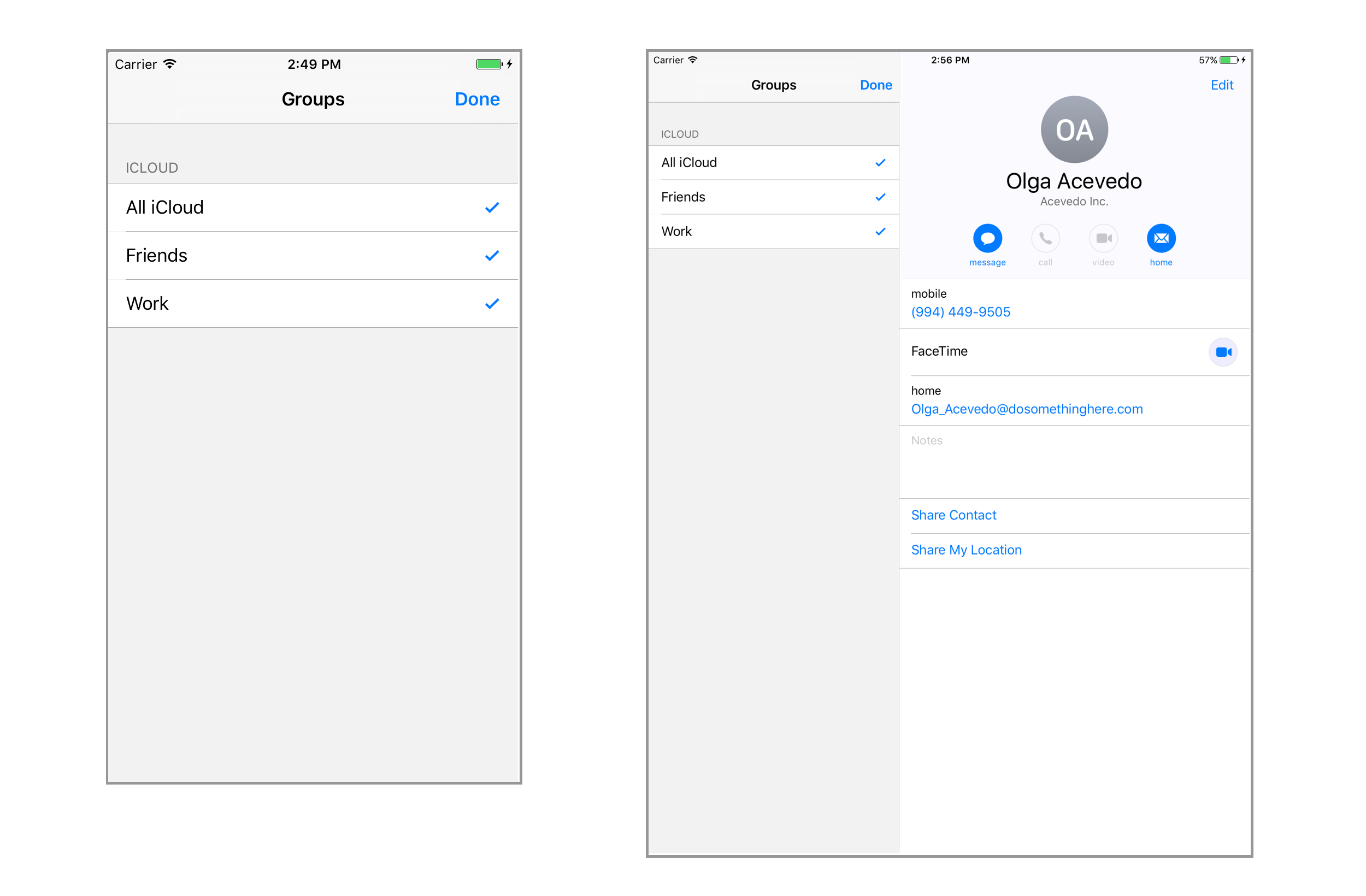 When the Groups lists match, tap done and check the Contact count between the two devices.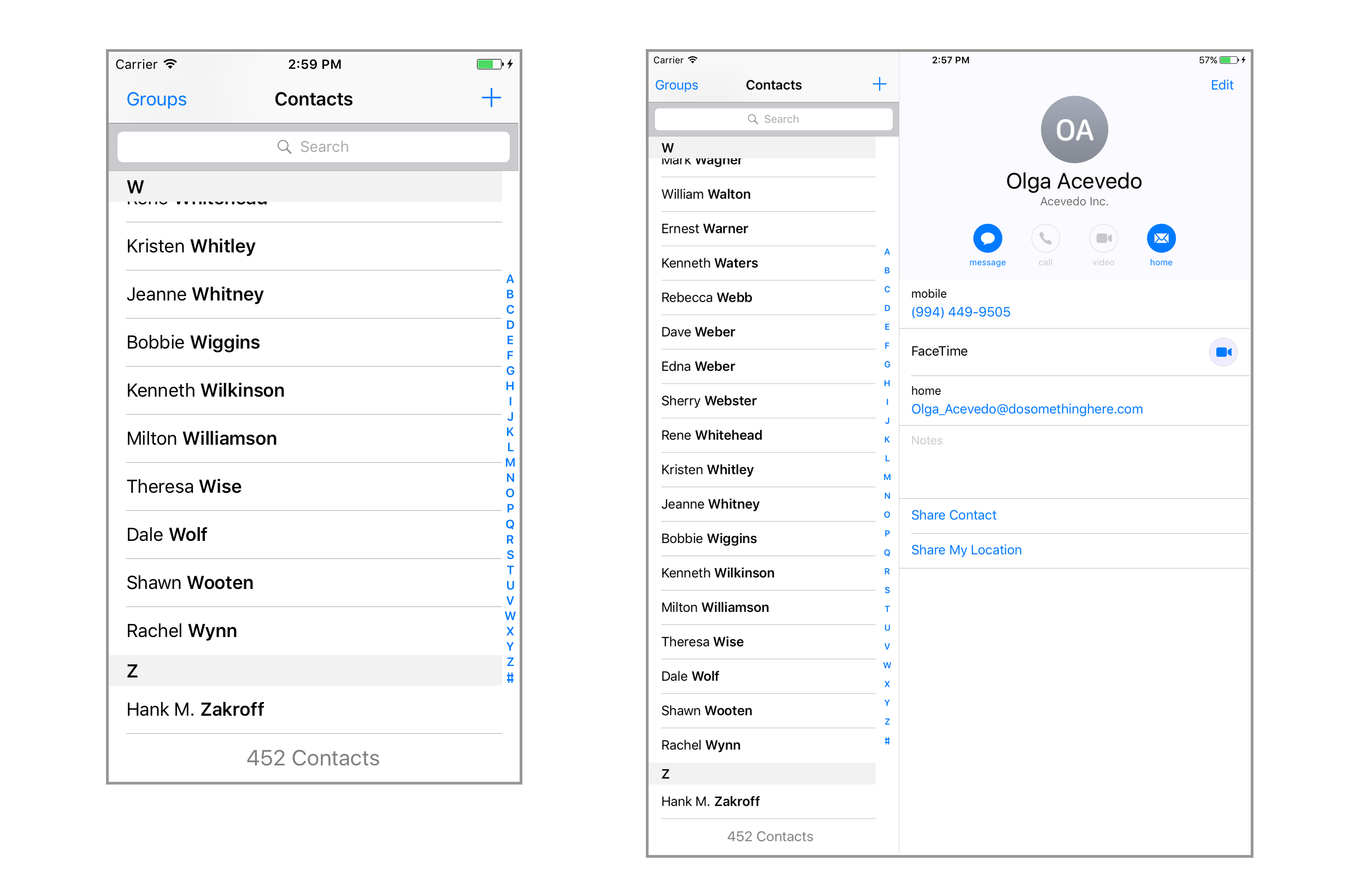 Now that your iOS Address Books match, A-List+ can sync your contacts and their A-List+ specific data seamlessly device-to-device.
How can I earn a FREE A-List+ tee-shirt?
Simple! Just tag me (Jeff Johnston / Jeff@alistplus.com) in a post on your Facebook page or other social media encouraging your friends and family to check out A-List+. Here is some sample text to get you started. Thank you so much for helping us spread the word and don't forget to let me know your shirt size!
Hello Facebook Friends,
I have been using a cool new iOS app that I think you'll LOVE. It is called A-List+ and it helps me organize and simplify my crazy schedule and busy life. It's got everything - Weather, Contacts, Calendar, Tasks, Username & Password management, Notes, Projects and more - all in one app! It's easy to use and all of my iPhone data transferred in perfectly.
Check it out at www.alistplus.com and sign up for the A-List Army. Their first 1,000 downloads get a FREE lifetime subscription.
Thanks Everyone – Hope to see you soon!
I get an error alert that says, "You have no internet connection. You will be working in offline mode," on my iPhone when I have a full signal. Why does this happen?
The alert is to notify you that A-List+ is offline and therefore may not have updated data, such as location or weather. A-List+ will work, and will sync all of your data the next time it has an internet connection.
If you are using an iPhone or an iPad with cellular service, go to SETTINGS > CELLULAR, and ensure that Cellular data is turned on, and specifically turned on for A-List+.
Where can I download the app?
A-List+ will soon be available on the iTunes App Store for your iPhone, iPad, and iPod Touch.
During our pre-launch beta period, you can become a member of the fast growing A-List Army and get a FREE download by entering your email address in the box above. After sign up, you'll get an email from TestFlight (Apple's distribution platform for apps in beta) with a link to download and install the A-List+.
Which operating systems will it run on?
A-List+ is currently available for iOS 8 or higher.
Do A-List employees have access to my data?
All of YOUR data is stored on your device and in your secure iCloud account. We have absolutely NO ACCESS to your data whatsoever. A-List+ runs locally on your device(s) and it synchronizes your information through your personal, password-protected iCloud account. This design architecture gives you the same high level of security that your iTunes account provides for your App, Music, and Movie purchases.
What is the A-List Army?
WE WANT YOU!
The A-List Army is our dedicated platoon of beta testers, early users and partners who are helping us make A-List+ a great solution. If you're ready to join, send us your email today!
Will it work on my iPad?
Absolutely! A-List+ takes advantage of the larger iPad screen to provide even more functionality, enabling you to see and do more with your data. Future plans include A-List+ versions for your Macbook or PC, Apple Watch and Apple TV as well!
Can I change the tone for my calendar alerts?
You can set the audible alert for any tone you have on your iPhone.
A-List pushes the calendar alert through the iOS calendar API.
Therefore go to Settings.
Go to Notifications.
(Alphabetically A-List should be at or near the top of the list) Tap A-List+ and verify that the app's notification settings are turned on.
Return to the primary Notifications menu.
Select Calendar.
Make sure ALLOW NOTIFICATIONS is turned on (green)
Select Upcoming Events.
Select Sounds.
Choose your preferred audible alert sound.
Exit Settings.
Also make sure your iPhone is not muted.
Sometimes I see duplicates in my A-List+ contacts.
This can occur when the user is using A-List+ on multiple devices, e.g., an iPhone and an iPad, that have different email accounts and therefore contacts in the devices' Address Books. A-List+ is engineered to keep your A-List+ Contacts in full sync with your device contacts, and having different Address Book listings on multiple devices creates a conflict that A-List+ then tries to resolve. Ensuring that email accounts and Address books match on your different devices will prevent this duplication problem.
I tried to create an event with a date in the past, but it wouldn't work. How can I do this?
There is a default setting on your iPhone and iPad in Calendar that only syncs "Events 1 Month Back." Go to Settings > Calendar. About the middle of that screen you should see, "Sync Events 1 Month Back" you can select and change this setting by 1, 3, or 6 Months Back, or "All Events." this will enable you to create and access past calendar events in A-List+.