Tutorial #2: Organize all the People, Groups and Businesses in your Life!
Hello A-List Army,
Thank you for your continued support! This is the second in a series of tutorial blog posts designed to help you get the most out of A-List+.
This tutorial focuses on Contacts. Contacts represent all of the people, groups and businesses in your personal and professional life. These are the people that you love, like, work with and/or rely on to fix your broken garage door. What could be more important than that? So let's get them organized! Check out the screen shot below. I will explain each of the areas numbered in red.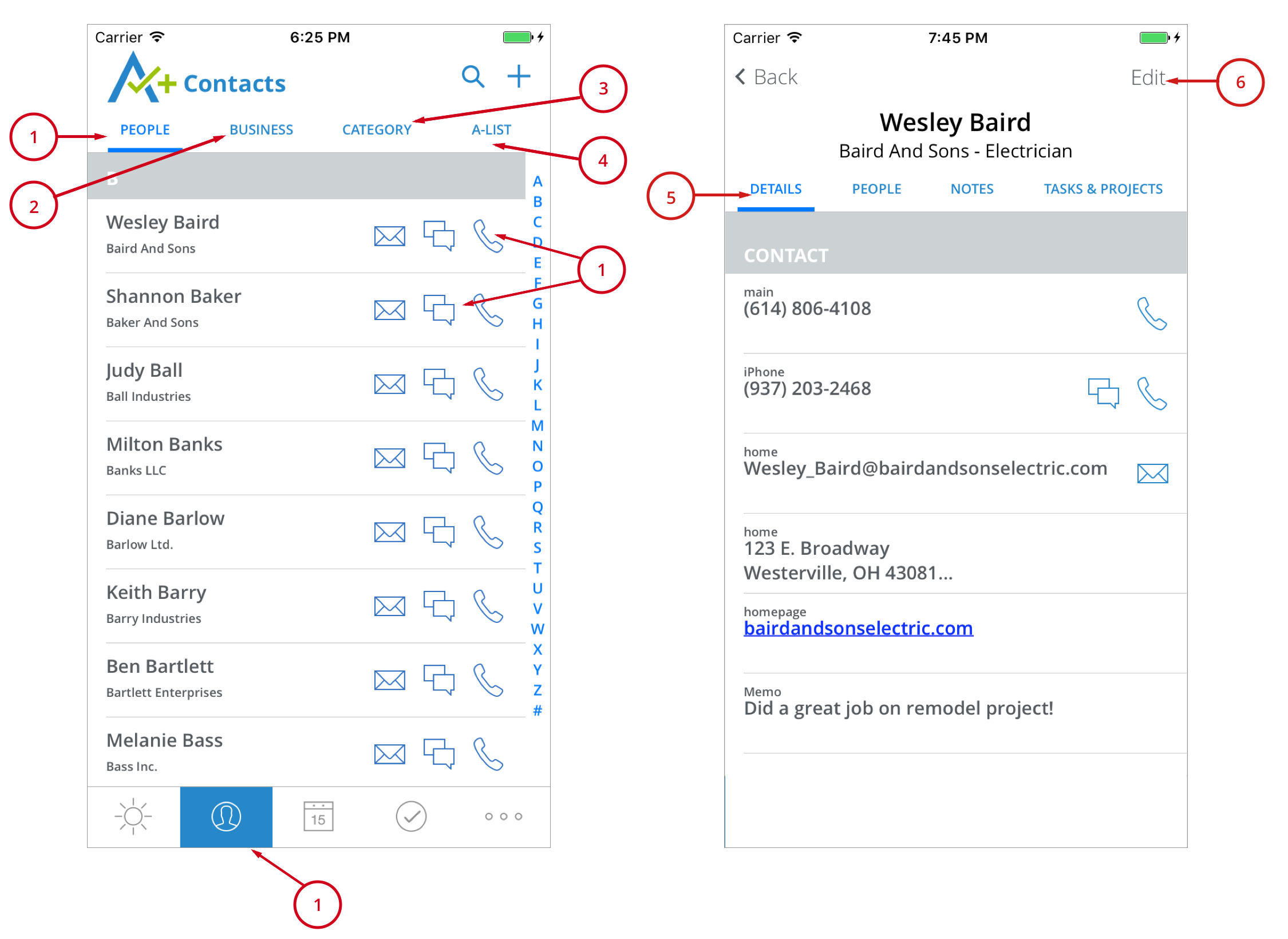 A-List+ will import all of your iOS Contacts and keep them in synch but that's just the beginning . . . The real power of A-List+ is the ability to assign and store important, useful pieces of information to other important, useful pieces of information.
Imagine you need a plumber. You used an awesome guy a few years ago when the drain in the kid's bathroom was clogged but now you can't remember his name or even his company. 'No problem. With A-List+, you can easily find him, call him again, see exactly when he last came to your house, what he did and maybe even how much he charged. This (and much more) is routine if you manage your contacts in A-List+.
Contact Lists - When you tap on the Contacts icon from anywhere in the app, you'll see the Contacts menu. Notice the 4 different ways to display your Contacts - by Name, Business Name, Category or A-List Groups. Also notice that you can initiate an email, text or phone call by tapping on those icons.
Business Name – When you tap on a Contact, you'll see the 'Contact Detail' screen. Tap the 'Edit' button in the upper right hand corner and you can edit the Contact info. The third field down is labeled "Business". If you enter a business name for this Contact, A-List+ will sort and display it by Business name (first / last name are actually optional). This is very helpful when you can remember the where someone worked but can't quite remember their name . . . which happens to me about every day!
Category – Fourth field down the 'Edit Contact' screen is Category. You can assign Categories to any / all of your Contacts and then display / search for them by "Category". We preloaded the app with 10-12 Category descriptions but you can also add your own. When you assign Categories to Contacts, finding who you're lookign for becomes quick and easy.
A-LIST – A-Lists are Contact Groups -- any group of people you interact with – clubs, teams, family members, co-workers, etc. You can create and assign contacts to A-List groups and then easily communicate with all members of the group via text or email. You can also schedule Events, assign Tasks, record Notes and more. Tap the '+ Add A-List" button (5th field from the top) to assign a Contact to an new or existing A-List group.
Contact Detail screen – Tapping a Contact from the Contacts list will display the Contacts Detail screen. Notice the 4 buttons under the name – Details, People, Notes and Tasks / Projects. Tapping each will display different information, including other people or businesses assigned to the Contact, and any Notes, Tasks or Projects assigned to this contact.
Edit Contact – Tapping the 'Edit' button on the Contact Detail screen displays the Edit Contact screen. Here you can add or edit as much information about this person as you want. Name, Company / Business, Category, A-Lists, Phone Numbers, Email Addresses, a handy Memo field and much more. In the Additional Info section, you can add or assign other pieces of A-List+ data to this Contact. For example, you can link another Contact (a spouse, mutual friend or co-worker), assign an Event, Task, Note, Project or Image.
Remember our plumber? Assigning a Category makes it easy to find him again, despite your failing memory. Attaching the appointment and a brief note to his record gives you the history of the relationship, safely stored and forever accessible any time you need it.
I encourage you to take a few minutes and clean up your Contacts, assign some Categories and create an A-List. You'll be glad you did! Thanks again for supporting A-List+. If there is anything you need, just let us know and if you'd like an A-List+ tee shirt, send me an email with your size and mailing address.
Don't forget to LIKE us on www.facebook.com/alistplus and if you have a minute, please consider posting a review on the App Store.
Sincerely,
Jeff Johnston
Founder / CEO
A-List+
Cell: 614-893-6221