Tutorial #4: You've Got Stuff To Do . . . Get it DONE with A-List+!
Thanks for your continued support of A-List+. This is the fourth in a series of tutorials designed to help you Manage What Matters and get the most out of A-List+. This tutorial explores the Task features in A-List+.
As we discussed last time, an Event has a definite date and time and describes somewhere you have to be or something you have to do right then. A Task is something you need or want to do and it should have a "due date", but the due date is more of a goal than a hard deadline.
Check out the screen shots below. I will explain each of the areas numbered in red.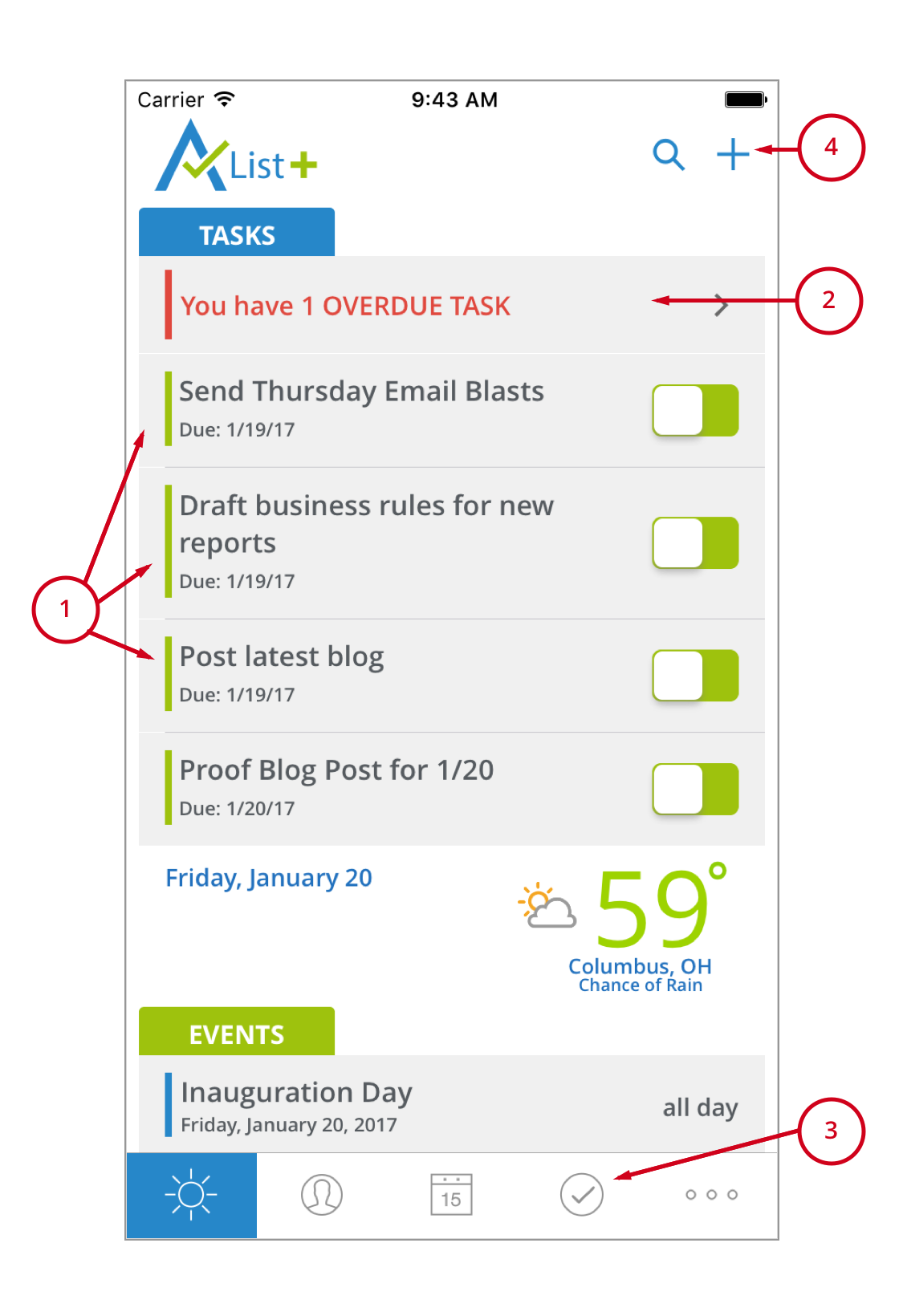 Tasks on the Dashboard Due Today or Tomorrow - A-List+ will display up to 5 Tasks with due dates either today or tomorrow in these areas on the Dashboard. As you get them done, tap the green slider – it will momentarily display a blue checkmark, and the completed Task will disappear. If you have other Tasks in your Task List, another will import to the Dashboard and fill the spot.
OVERDUE Tasks on your Dashboard – This is a relatively new feature in A-List+. Previously, overdue tasks took priority over Tasks due Today and, if you had more than 5 (I currently have 22 . . . ), would quickly overwhelm your Dashboard. Tapping the Overdue Task cell will take you to the Overdue Task area on the Task screen, letting you scroll through and hopefully mark a few complete.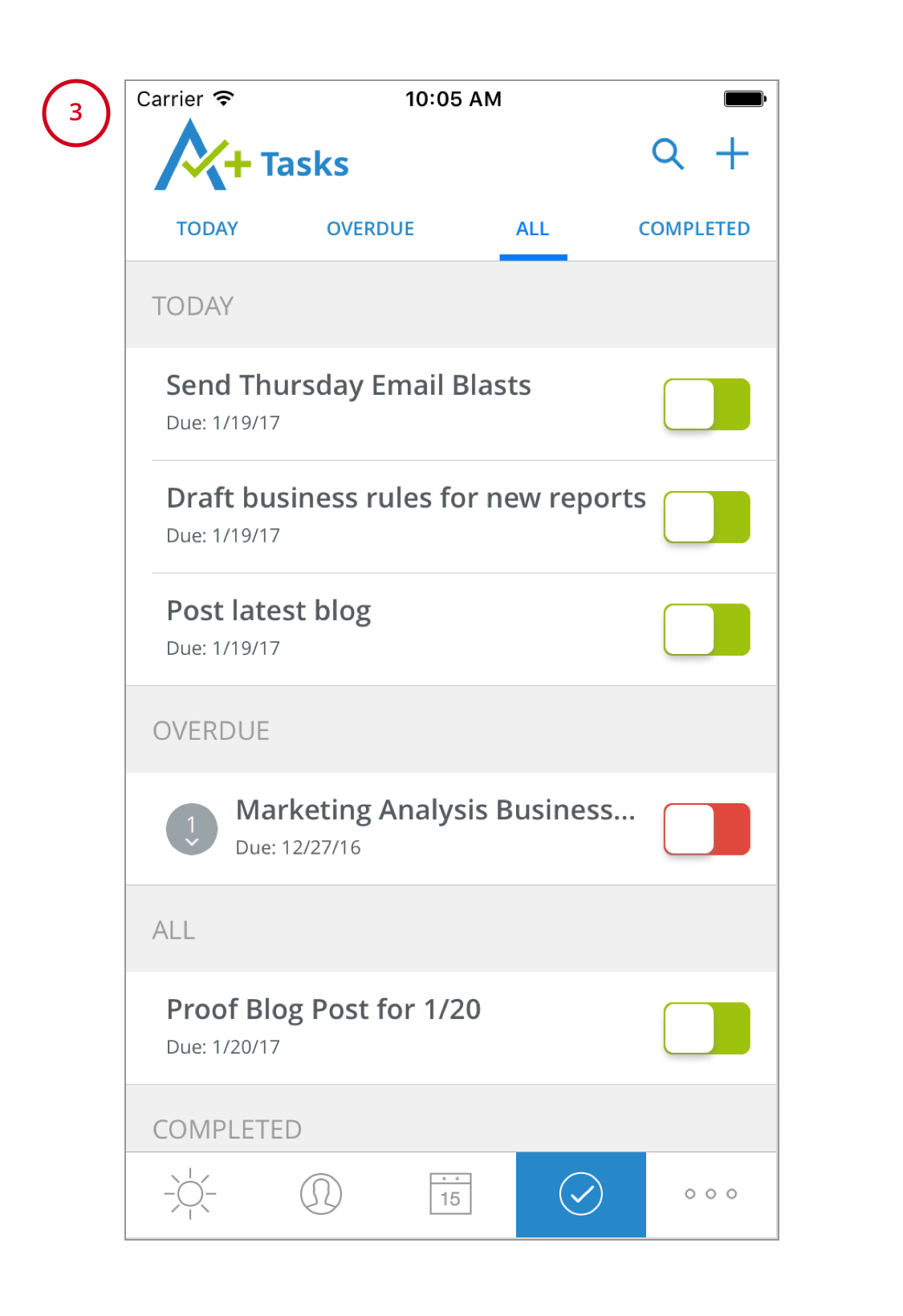 Task Menu – Tapping the Checkmark icon on the bottom of any screen will take you to the Task menu. Notice the 4 areas (we call them "segments" – very techie sounding) at the top – Today, Overdue, All and Completed. These segments simply filter your Tasks by their Due Date or Completed status. Keep in mind, your Tasks will be displayed in Due Date (or Completed Date) order. Failing to assign a Due Date will place your Task at the end of the ALL section. Also notice that you can edit the Due Dates of Overdue Tasks and permanently delete Completed Tasks in a handy batch process. If you accidently mark a Task Complete and want to make it active again, go to the Completed segment, find the Task and tap the slider again. A-List will move it back to the appropriate list.
Add a Task – Tap the "+" Additional Actions button in the upper right hand corner and select "Add Task" (if you're on the Task Menu, adding a new Task will be the first option, if not, you'll have to swipe to the right to find it). Give the Task a description – which can be as long as you need (includingreturns and #'s for checklists, shopping lists, etc.). Tap the Due Date area (known as a "cell") to display the spinner wheel to give the Task a Due Date. Assign a "Repeat" frequency if desired and, if this is a more complex Task, add an unlimited number of Sub Tasks. Each Sub Task can be individually completed, allowing you to break Complex Tasks up into smaller, more manageable steps. Finally, you can add a Memo to the Task as well as link an unlimited number of Contacts, Events, Notes, Projects or Images. Hit "Done" when you're finished and A-List+ will save your Task in the appropriate list.
A-List+ will maintain all of the additional information associated with this Task and accessing any of these assigned items (Contacts, Events, Notes, etc.) will have a link back to this Task. Rather than existing in separate silos, or even in separate Apps, with A-List+, your critical data is completely interconnected and accessible everywhere you need it This is the real power of A-List+.
Next time, we'll review Notes and Notebooks (which are a collection of Notes around a common topic). Until then, we'd love to hear your feedback and suggestions about Tasks and anything else A-List+ related.
Thanks for your support. If you're enjoying A-List+, please help us spread the word by liking us on Facebook, sharing our posts and telling your friends, family and co-workers. If you'd like a free A-List+ tee shirt, send me your size and mailing address. Finally, we hope you'll consider posting a review on the App Store.
Thanks for your interest,

Jeff Johnston
Founder / CEO
A-List+
Cell: 614-893-6221