Tutorial #1: Your A-List Life - Dashboard and Navigation in A-List+.
Hello A-List Army,
Thanks so much for your interest in A-List+! We send a series of tutorial emails to new users every few days after their initial download but since most of your Inboxes explode every day, I thought we'd post versions of these on our website. I hope they help you get the most out of A-List+.
The screen shot below is the A-List+ Dashboard - your day at a glance and a just tap away from your Contacts, Calendar, To Do list, Notes, Passwords, Weather and Projects. I will explain each of the key areas numbered in red.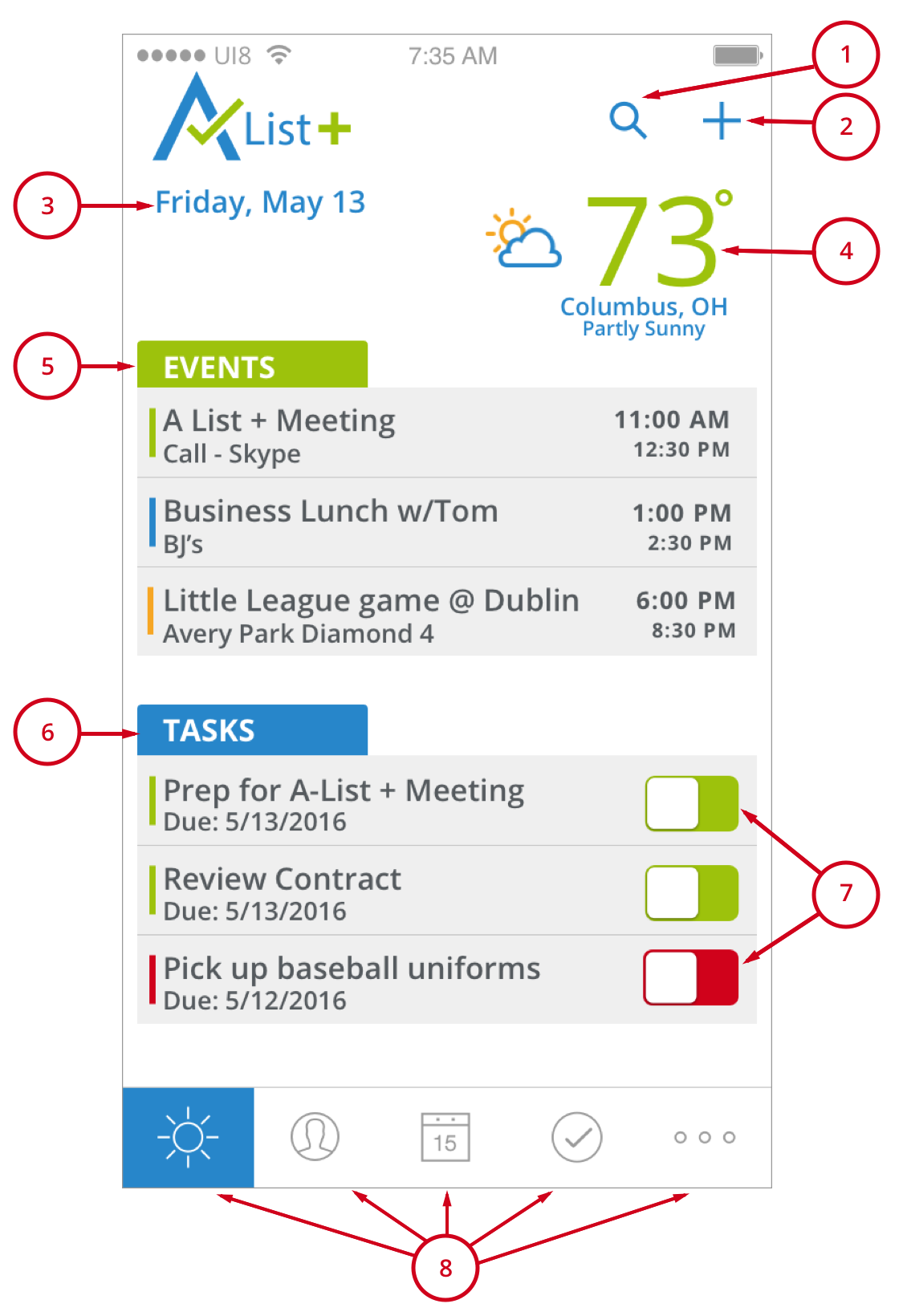 The Magnifying Glass – Located in the top right corner of every screen is a powerful app-wide search feature. When you tap it, simply enter the first few letters of anything you want to find – it will search through Contacts, Tasks, Events, Notes, - everything and display the results in a list. Tap on the results to go to that item.
The "+" Sign – AKA the Additional Actions button. Tapping the + sign is the primary way to enter any new piece of data into the App. Use it to add a Contact, Event, Task, Note, Password and Project as well as to send us Feedback or to create an A-List Contact Group.
Today's Date. No explanation necessary.
Weather. We developed an integration with Weather Underground to provide location based Weather. Tapping in the weather area from the Dashboard brings up the current weather for your present location and swiping from right to left will display the forecast for the next 3 days (beyond that, it's a crapshoot anyway).
Events – Pulled from your calendar, this area displays your next 5 scheduled Events. As the day progresses, Events with start times earlier in the day disappear and make room for your hot date this evening (or maybe your kid's basketball practice).
Tasks – I've had people ask me – "What's the difference between a Task and an Event?". For our purposes, an Event has a definite date and time – it is on the schedule and it's someplace you have to be or something you have to do right then. A Task is just something you need or want to do. A Task can (and should) have a Due Date, but it's no big deal if you don't get it done by then (except the little slider will annoyingly turn red . . .). A-List+ will display a row summarizing your Overdue Tasks up to 5 Tasks which are due today in the first Task area.
The Sliders – From the Dashboard, you can tap a slider on a Task that you've gotten done and it will briefly display a very gratifying blue checkmark and then disappear . . . only to make room for yet another Task to take its place.
Navigation Icons – Along the bottom of every screen, you'll find the main navigation icons. From left to right, Dashboard, Contacts, Calendar, Tasks, and More. Tap any icon to go to that area. The More screen contains 6 different areas – Notes, Passwords, Weather, Projects, Settings and Support. Tap any icon to go to open that area and tap the More icon again to return to the More screen.
That's the A-List+ Dashboard. If you like the App, PLEASE tell your friends and consider posting a review on the App Store. If you have any issues, questions, suggestions or ideas, don't hesitate to let us know and if you'd like an A-List+ tee-shirt, just send me an email with your size and address.
Thanks for your support!
Jeff Johnston
jeff@alistplus.com
Founder / CEO A-List+
Cell: 614-893-6221