Tutorial #3: You've Got Places To Be - Manage your Calendar with A-List+!
Hello A-List Army,
Thanks for your continued support of A-List+. This is the third in a series of tutorial blog posts designed to help you Manage What Matters and get the most out of A-List+. This tutorial addresses the Calendar and Task features in A-List+.
Since we all have PLACES TO BE and THINGS TO DO, let's get to it. As with Contacts, A-List+ will import all of your iOS Calendar entries and keep them in synch. If you are not familiar with the iOS Calendar, open it up and tap on the 'Calendar' button at the bottom of the screen. (1) Your iOS Calendar will display "Events" (Apple's term for appointments and schedule entries) from all of the selected calendars in your list. You can subscribe to various calendars and share calendars with friends, family and co-workers. A-List+ will essentially display a mirror image of your iOS calendar. But wait, there's more . . .
Check out the screen shots below.
2. Day View – The Day View displays a clean, simple view of all the Events on your schedule for today. To see tomorrow, swipe the screen from right to left. A-List+ simplifies your schedule by assigning Events into one of three calendars – Personal (blue), Work (orange) and Family (purple).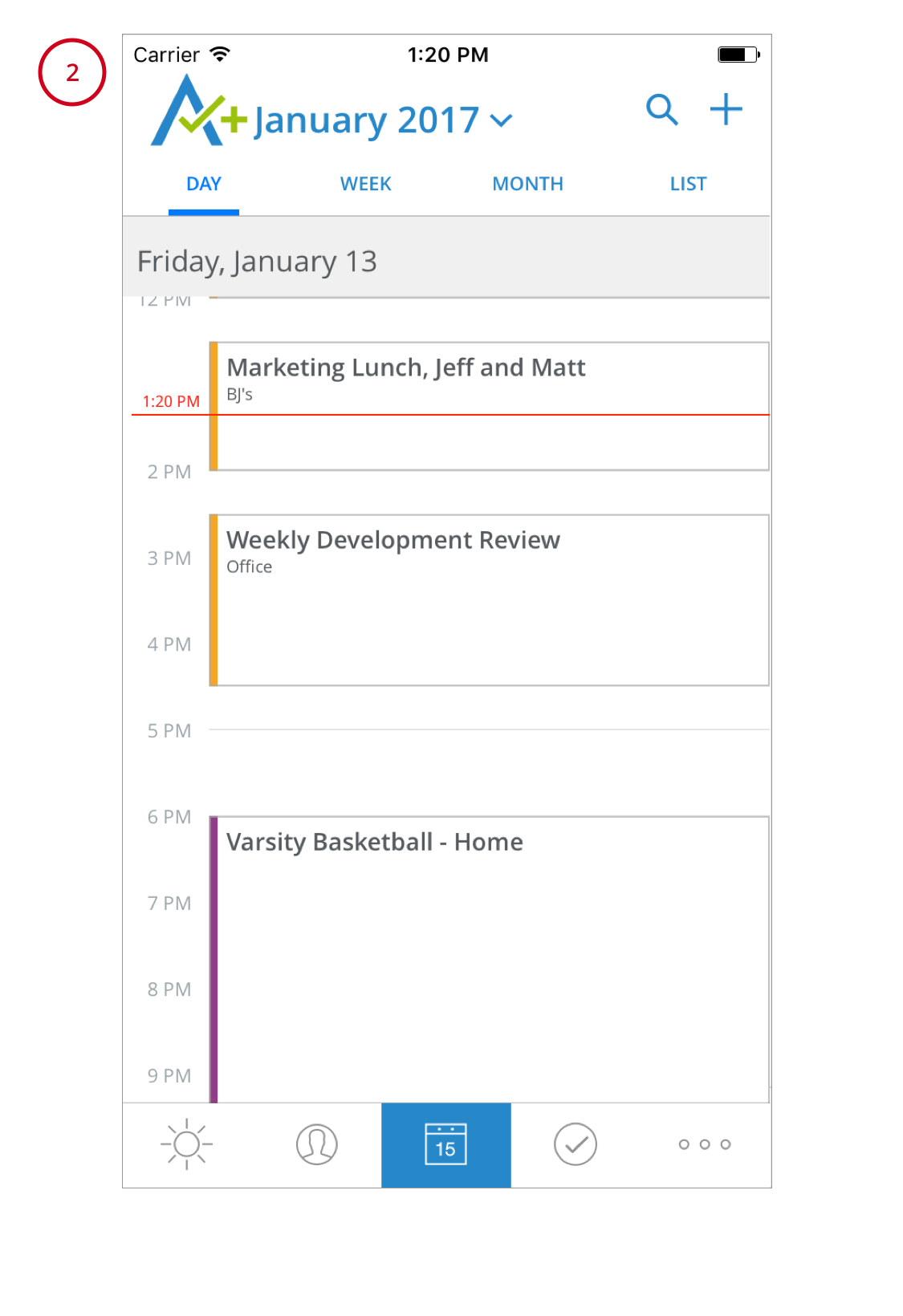 3. Week and Month View – The Week and Month views display an actual calendar image with Today's date highlighted in blue. Under the image, all of the Events scheduled for that day are displayed as well as any Tasks due on that day. The horizontal bar under the date will get larger the more stuff you have on your calendar. With A-List+, you know where you need to be AND what you need to do!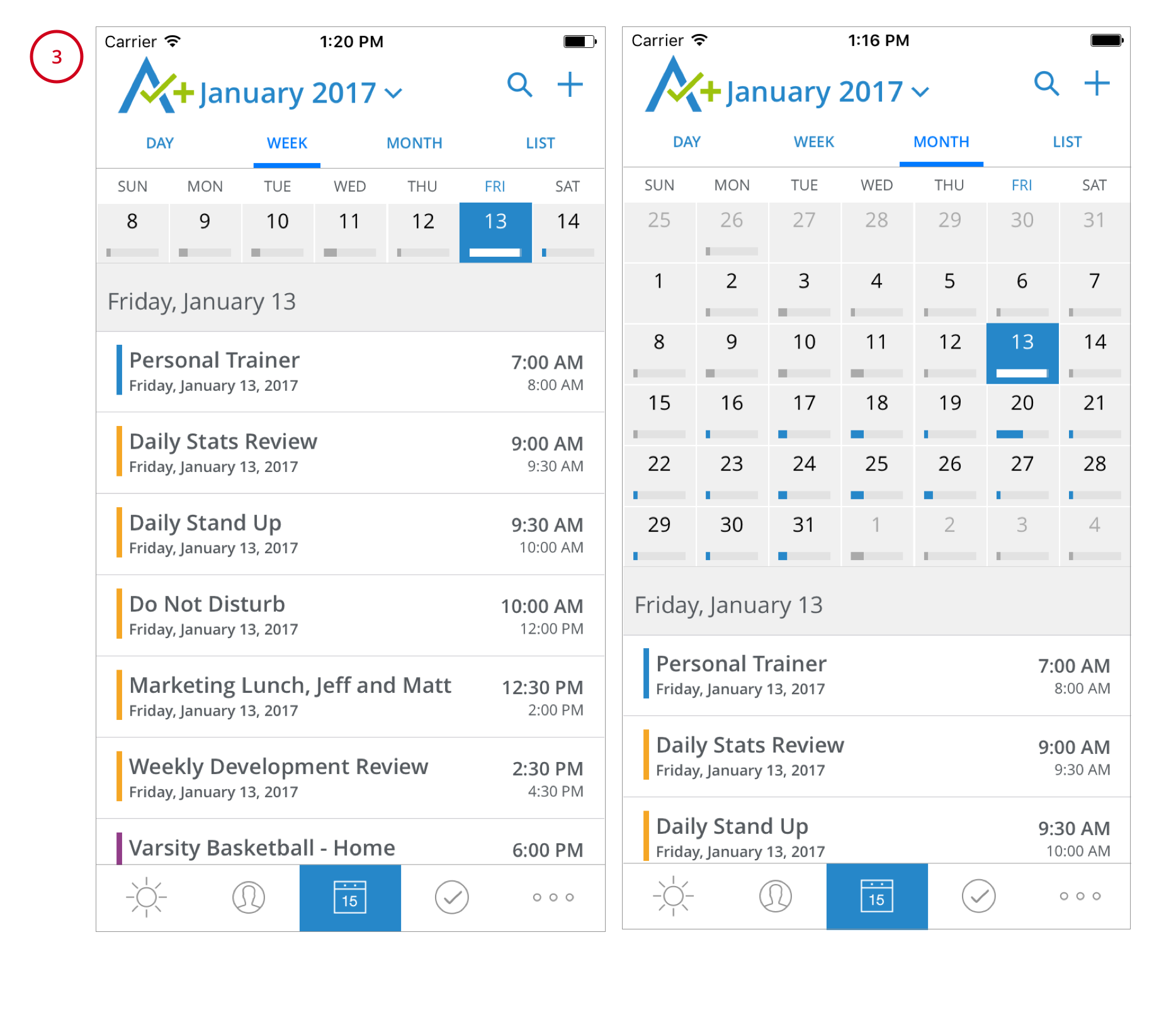 4. List View – I like the List view. It's kind of a "just the facts, Maam" look at your calendar. Nothing extraneous, just your scheduled Events, in date / time order. Scroll down as far as you want. To return to the top, tap the 'Today' button in any of the date separators. You can set your preferred Calendar view in Settings, Options.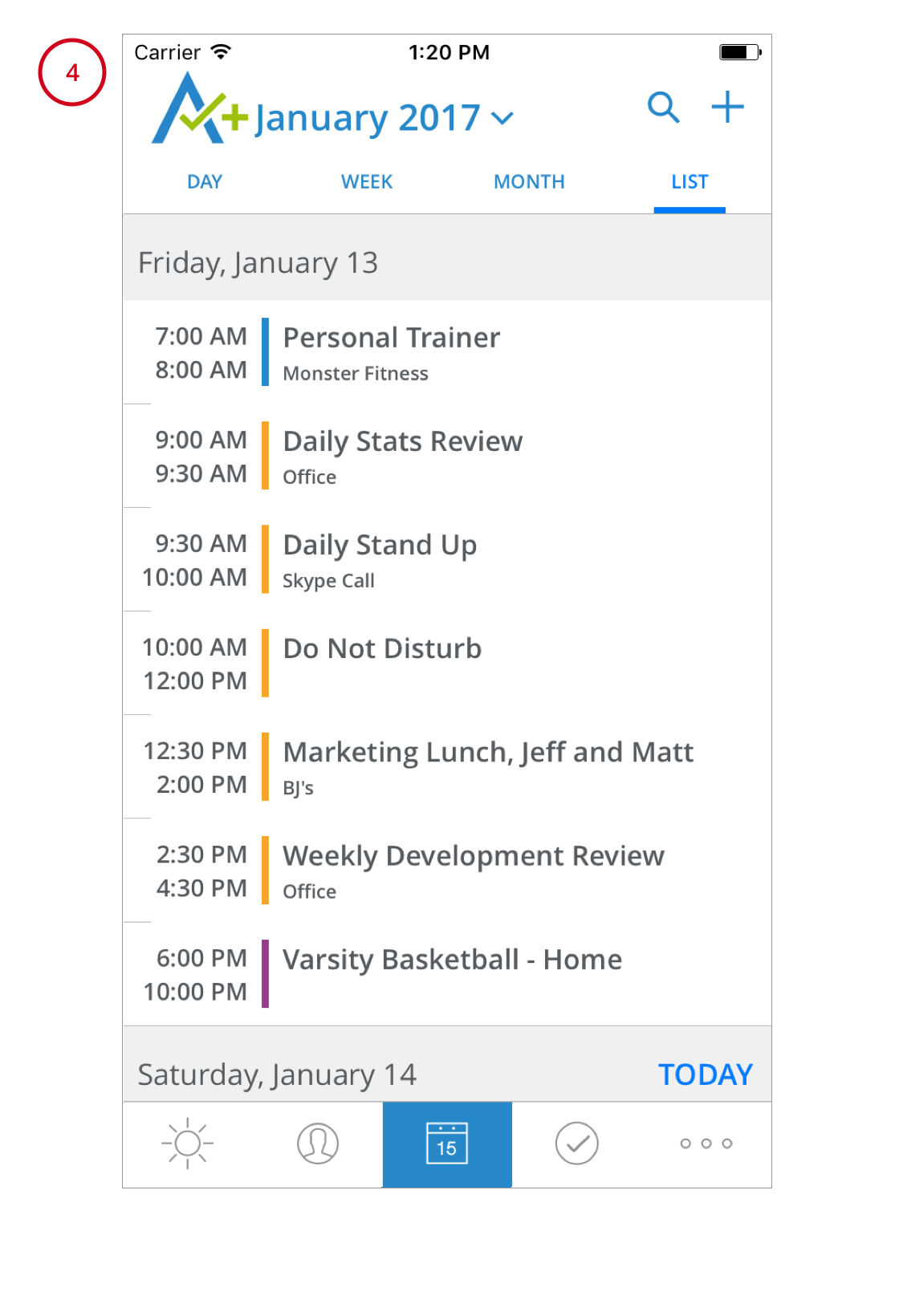 5. Add an Event – Tapping the Additional Actions button (the + sign in the upper right hand corner) will allow you to add a new Event. Give the Event a description, select a Location (A-List+ is fully integrated with the iOS Maps feature) and set the Start and End date / time. Additional features include making the Event Repeat (every week, month, etc.), the ability to add an Alert and (you can set a default Alert and in Settings, Options) as well as assigning the Event either the Personal, Family or Work calendars.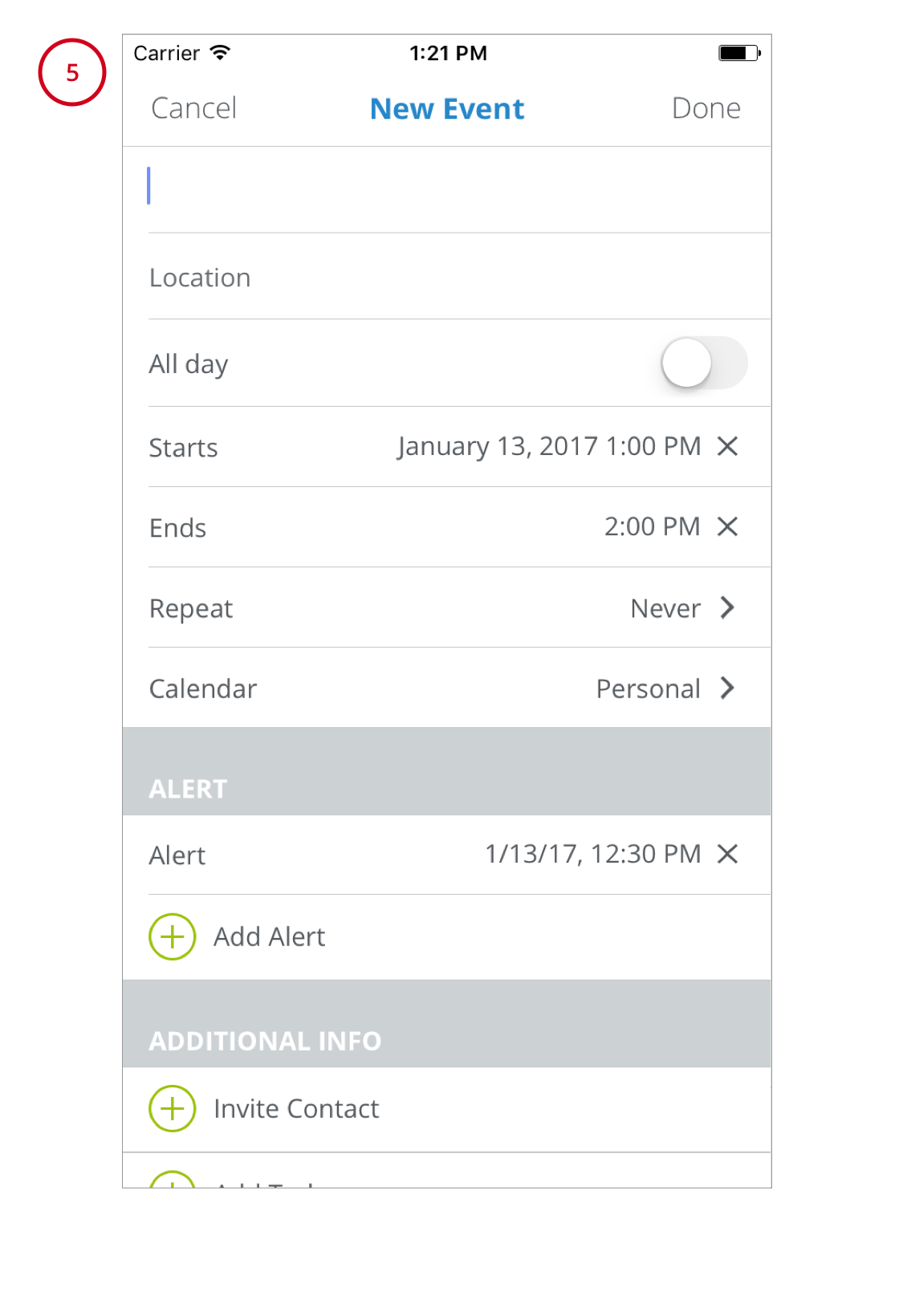 6. Event – Additional Info – Under the Additional Info area, you can assign one or more Contacts to this Event - doing so will send those people an email invitation to the Event. You can also assign one or more Tasks (e.g., "Take binoculars to Buckeye game"), attach a New or Existing Note to the Event and/or assign the Event to an A-List Group.
A-List+ will maintain all of the additional information associated with this Event, and, accessing any of these assigned items (Contacts, Tasks, Notes, A-Lists) will have a link back to the Event. This interconnectedness of your data is the real power of A-List+.
We'll get into a detailed explanation of Tasks in the next blog post but for now, let me restate how we think about the difference between a Task and an Event. An Event has a definite date and time – it is someplace you have to be or something you have to do right then. A Task is something you need or want to do. A Task should have a Due Date - but the due date is more of a goal, not a hard deadline set in stone.
As always, thanks for supporting A-List+. Any questions, suggestions, ideas, needs, wants or demands? Just let us know. If you're enjoying A-List+, P-L-E-A-S-E tell your friends, family and co-workers and if you'd like a free A-List+ tee shirt, send me your size and mailing address – I sent one to New Zealand this week! Also, don't forget to LIKE us on Facebook (www.facebook.com/alistplus) and it would really help our App Store rankings if you'd post a review.
Thanks for your interest,
Jeff Johnston
Founder / CEO
A-List+
Cell: 614-893-6221