Tutorial #7: Successfully manage your next Project with A-List+!
Thanks for your continued support of A-List+. This is the seventh (and probably final) tutorial in the series designed to help you get the most out of A-List+. This tutorial explores the Projects feature in A-List+, designed to give you an easily accessible, simple-to-use place to store all of the relevant information related to a Project.
I'll explain each of the important features highlighted in red. To access the Projects feature, tap the More menu icon ("…") from any screen in the app and then tap in the Projects cell.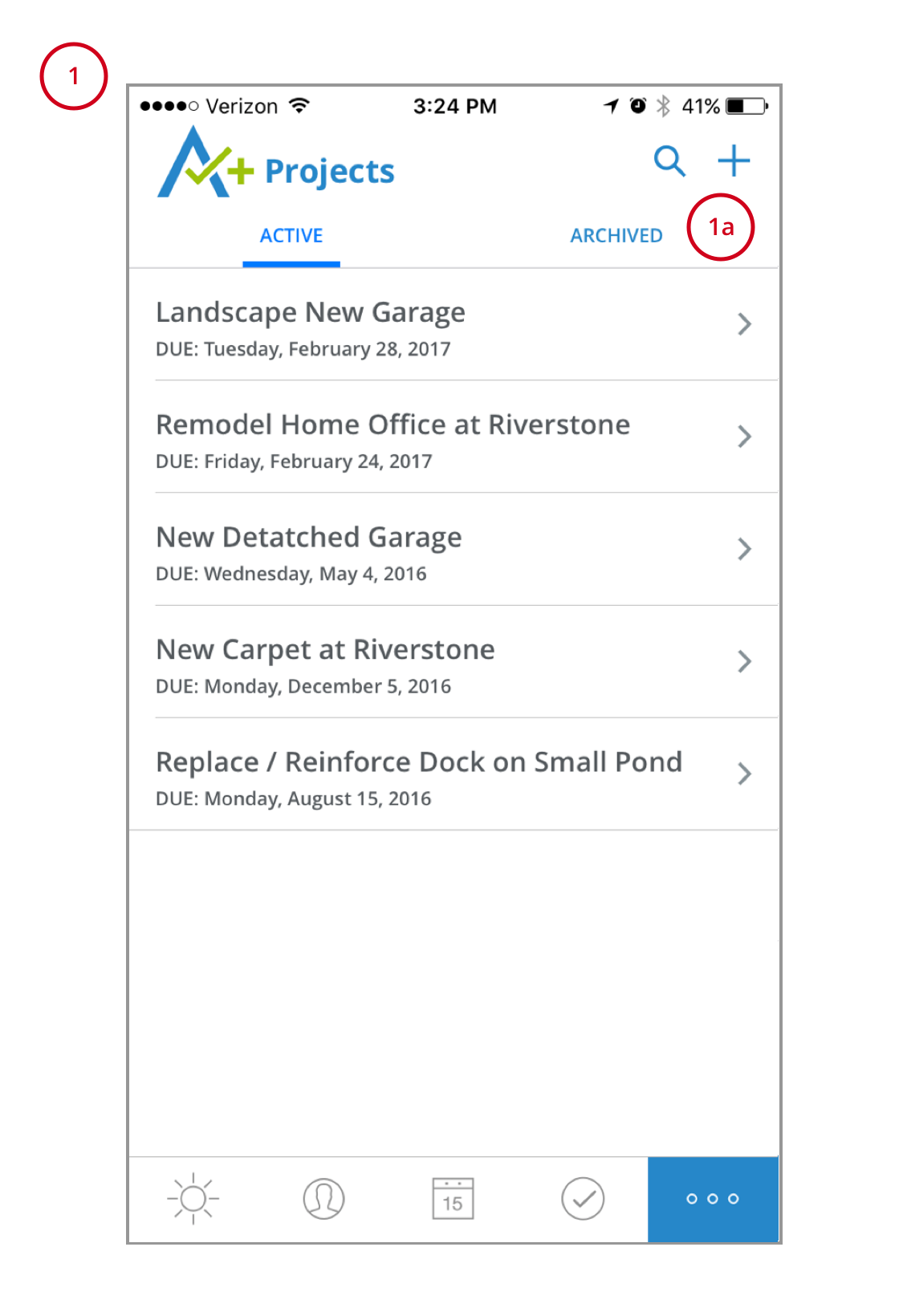 1. Project List – When you access the Projects area, you will see your list of active Projects. Projects are displayed in the order they are created, most recent to oldest, top to bottom. To access a Project, simply tap the cell.
a. Notice the "Archived" button on the right. If you have completed (or perhaps put on hold) a Project and want to get it off your main screen, left swipe on the cell and tap Archive.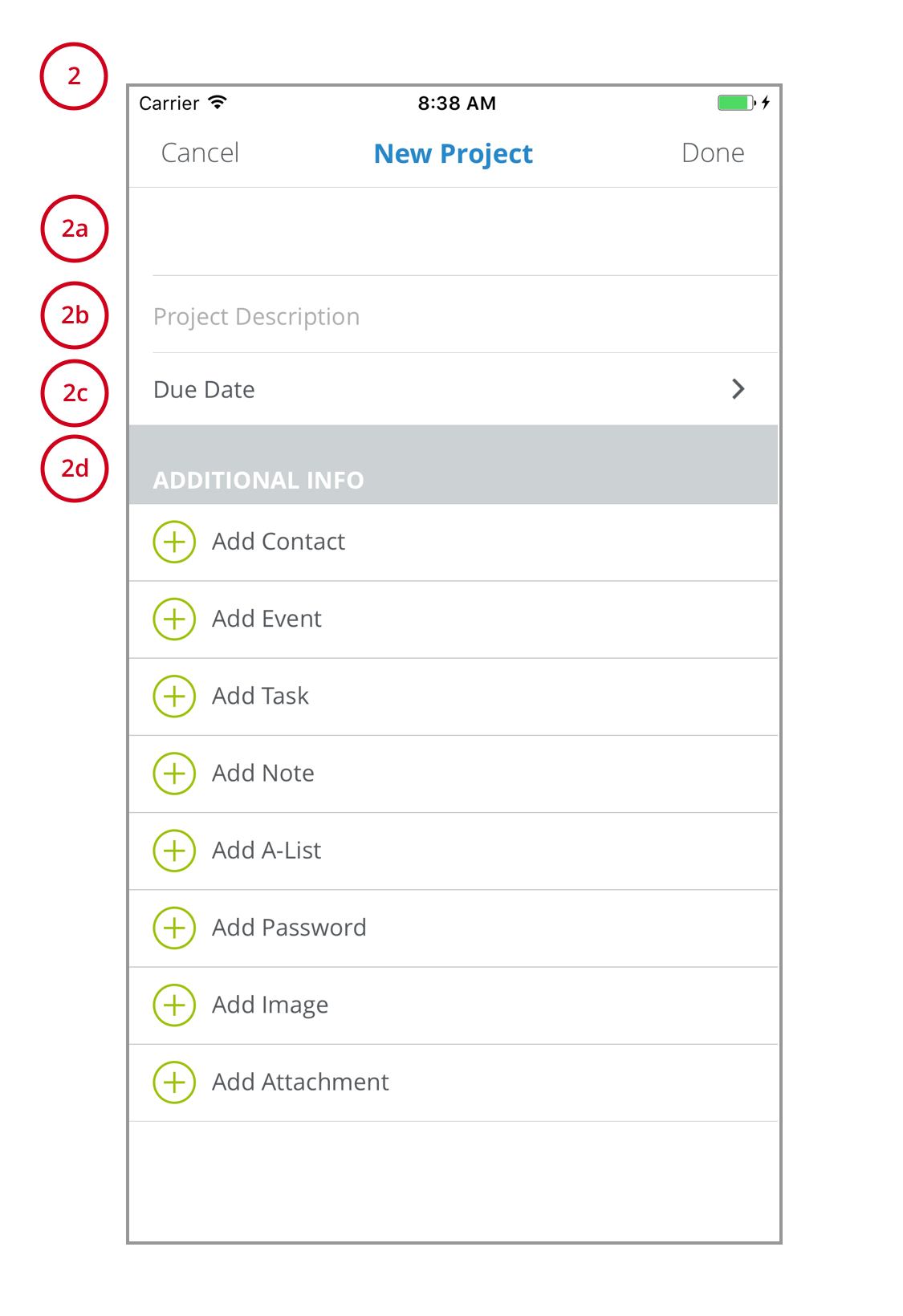 2. Add a Project – To add a new Project, tap the (+) sign in the upper right hand corner and select 'Add Project'.
a. Your cursor will flash in the first cell where you will give the Project a title (which is what you'll see in the list).
b. The next cell is "Project Description". Use it to enter a complete and full description of the Project.
c. Next, assign the Project a "Due Date". The Due Date is more of a goal than a hard and fast deadline . . . Unlike Tasks, we do not characterize Projects as overdue, however the due date will display under the Title in the Project list.
d. Below "Due Date", notice the "Additional Info". Here you can assign an unlimited number of other pieces of A-List+ data to your Project. We'll explore each one below.
3. Add Contact – Here you can assign all of the people and businesses associated with the Project. Add your painter, sales rep(s), architect, plumber, drywall guy, carpet layer, whoever . . . if they're involved, add them to the Project.
a. Notice when adding a Contact, you can create / add a 'New' contact on the fly or you can 'Select' from an existing contact. You can also use the magnifying glass to search for a Contact to add. Once assigned to the Project, you can quickly initiate an email, text or call with action buttons that display next to the Contact name.
b. Add Event – How many appointments can one little project generate??? It's probably best if you don't think about that for too long! If you assign them to their related Project, however, at least you'll be able to answer questions like - "Have we met with the interior designer, yet?", "Home many coats did the first painter say he'd apply?", "When did the plumber say he could start?" Enter EVERY appointment related to the Project and you'll always be able to see when you met with whom – that's half the battle!
c. Add Task – Projects can generate at least as many Tasks as they do Events. So, create your Tasks, assign them to the Project and mark them off as you get them done. Do this and you'll always know what you've still gotta get done to pull your Project over the finish line.
d. Add Note – After every appointment, phone call, meeting, or decision, if you log and assign a note (the dictation feature is quite useful here) and assign it to the Project, you'll always know where things stand.
e. Add A-List / Password –If your Project is related to an A-List contact group or requires one or more passwords, you can assign them here. For more information on using A-List groups or Passwords, please refer to our earlier tutorials.
f. Add Images – According to Wikipedia, the expression "A picture is worth a thousand words" first appeared in a 1911 newspaper advertisement for the Piqua Auto Supply House in Piqua, Ohio (about 50 miles from where I sit). That piece of information is totally irrelevant other than to illustrate the value in attaching pictures to your Projects. Before, during and after – document your Project's progress with pictures!
g. Add Attachments – Another handy feature is the ability to import and attach documents to a Project. Currently, we can import and attach PDF's, Word and Pages documents and Excel and Numbers spreadsheets. So, if a Contractor emails you a proposal with an attached document, open the attachment on your phone, tap the "action button" (little square with an up arrow), swipe to the left (past "Add to Notes", etc.) and tap the "Import with A-List+" button. A-List+ will open and tell you the file has been saved. Now when you tap "Add Attachment" from the Project screen, you'll see a list of all saved attachments. Select the correct one and it will be "permanently" attached to your Project.
You probably won't use the Projects feature every day but, trust me, it sure comes in handy when you need it. I've managed both simple and complex Projects in A-List+ and having all the essential information accessible in one place is a real time saver.
As I mentioned, this is the final tutorial in the series -- at least until we develop some new features. We'd LOVE to hear your ideas, suggestions, wants, needs or demands so don't be bashful. Thanks! for your support and if there is ANYTHING we can do to make you're A-List+ experience better, just let us know.
Thanks,
Jeff Johnston
Founder / CEO
A-List+
Cell: 614-893-6221